Kerry Washington Is in Her Enlightenment Era
After decades in Hollywood, the actress sees things differently now.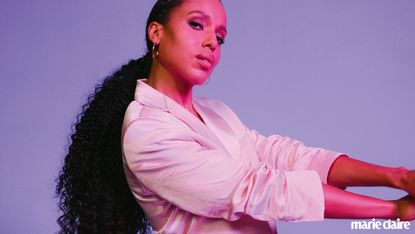 (Image credit: Breyona Holt)
Marie Claire Newsletter
Celebrity news, beauty, fashion advice, and fascinating features, delivered straight to your inbox!
Thank you for signing up to Marie Claire. You will receive a verification email shortly.
There was a problem. Please refresh the page and try again.
While in a shoulder stand in yoga class back in the '90s, a 20-something Kerry Washington attempted to scan the room looking for proof she was extending as high as others. Noticing her inquisitorial struggle, the instructor said, "If you don't stay on your mat, you will literally break your neck. Stay on your own mat in class and life." The sentiment stuck with Washington, now 46, though she admits it's taken time to sink in. "There's something about getting into my 40s where I am starting to see you only get this one life," says Washington, after kicking off her lug-sole boots on a rainy Saturday and sinking into a plush couch in a Pasadena hotel suite. "To spend this one life wanting to be anybody other than me, and not be where I am, doesn't benefit me," she adds. "To focus on what's over there means I'm ignoring my gifts, and this garden of my life doesn't get to flourish. What's mine is mine, and it's beautiful."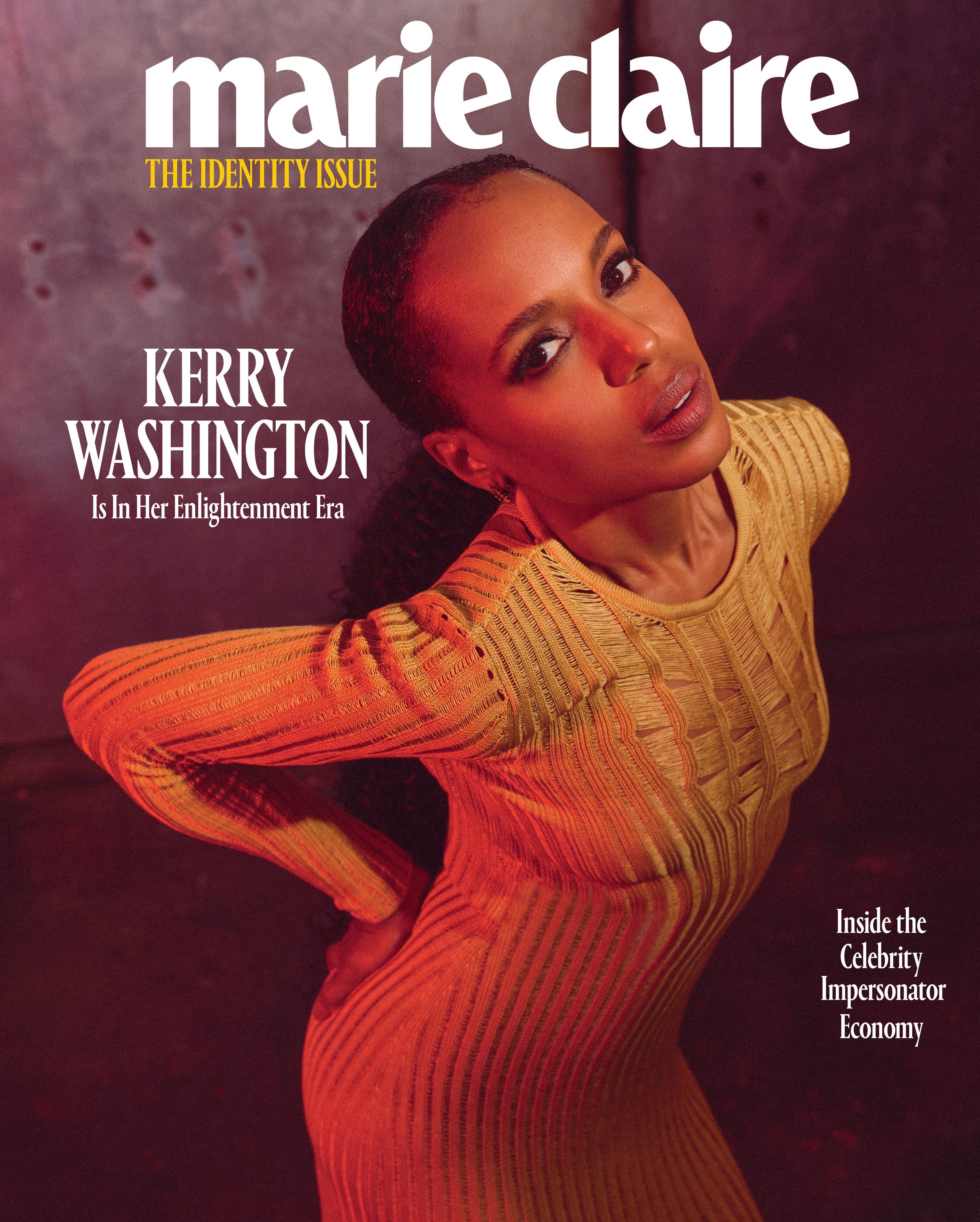 Finding enlightenment in her own lane doesn't mean slowing down, though. She is, after all, from the Bronx. "We are sort of the underdog borough," she says, her incredibly fly gold chrome nails impossible to miss as she gestures while talking. "I don't think you'll ever meet somebody from the Bronx who doesn't have a little bit of a hustle. We are always ready to build, create, figure it out."
Lately, for Washington, that means starring opposite Delroy Lindo in the just-out Hulu dramedy, UnPrisoned. She plays a therapist and single mom whose fresh-out-of-prison dad moves in with her and her teenage son. Washington's interest in producing and starring in the series was led by her desire to "unpack dynamics of returning citizens through this comedic, loving lens," she says. "Given how massive the prison industrial complex is and what a huge problem it is in this country, I thought this is something a lot of people can relate to." She was also tired of the lack of Black father-and-daughter narratives on TV, adding: "I thought it was an important story to tell with joy."
As a kid, Washington loved performing in children's theater. She even received an acting scholarship to college, but her real focus was on the anthropology of performance, majoring in social sciences like psychology and sociology. By her 20s, though, she was determined to make it in Hollywood, and took flexible jobs as a substitute teacher and restaurant hostess so she could chase roles. Landing parts in films like She Hate Me, Ray, and The Last King of Scotland set her career in motion. But playing the lead in Scandal made her a household name.
Still, she wasn't fulfilled. Throughout her acting career, Washington remembers immersing herself so much in the characters she played that she neglected to focus on her personal growth. "I've made a career into being other people because being other people is comfortable for me," she says. "Being in myself, being with myself in my own body as myself, is a much newer adventure for me. When the job ends, the movie's over, and the incredible run of the historic TV show ends, it's important to have a self to go back to." Which is why she says she is now "prioritizing myself as the lead character of my own story."
To do this, she's putting in the work. Part of that involves finding ways to move beyond negative thoughts, which, for Washington, often come up in two ways: "One is lack of faith that everything's good. This idea that I have to do better or be better to be lovable or acceptable, as opposed to trusting that my best is enough. And then I have a history of healing around body image and perfectionism."
Her ability to weather less-than-positive self-talk relies on practices like "prayer, meditation, therapy, journaling, or spending time with other people in growth situations—doing the work," she says. "I have to be doing that work. As an executive, entrepreneur, parent, wife, for me to show up in those places requires that I'm willing to constantly be doing self-inventory and face my stuff. If I'm in a place of faith, self-love, and radical acceptance, shit doesn't bother me. I can take a risk, and whether it goes well or doesn't, I'm good. It's about the journey, letting go of the result, and trusting your lane is yours. But if I'm not doing the work to be in a faithful place, then it's much harder."
Speaking of risks, Washington is here for them. "Part of being an artist, being a creative person, is constantly being willing to be a beginner and do things you've never done, be in situations you've never been, stretch, grow," she says. "I'm so attracted to that kind of work, but it is also so fucking scary." She doesn't let fear hold her back, though. And her dedication to choosing culture-shifting projects is one of her greatest strengths and a significant source of pride. "Even in the beginning of my career, I would say I'd rather work another shift at the restaurant than do a movie that is going to be bad for women or Black people," says Washington.
After becoming the first Black woman to play the lead in a network drama since the '70s, by starring in Scandal, Washington recognized that portraying Olivia Pope meant she was "part of something transformative and culturally significant," she says. She launched her production company, Simpson Street, in 2016 with a similar goal. "We are trying to expand our vocabulary around what a protagonist looks like and is, and to upend the idea of other," says Washington. And she is, with projects on her imprint like the Emmy-nominated Little Fires Everywhere and the drama series Reasonable Doubt.
But running a production company hasn't been without its challenges. "I'm a trained creative person, but I've had to learn how to lead, inspire, and communicate with teams," she says. An executive coach and pals like the co-CEO and president of Ariel Investments, Mellody Hobson, Little Fires Everywhere co-star Reese Witherspoon, and director Melina Matsoukas, who Washington shadowed before stepping behind the camera to direct Scandal and Insecure, have been great resources.
Now, to inspire her team, Washington abides by these fundamental principles: "Honesty, transparency, authenticity, accountability. I try to communicate with compassion," she says. Pilar Savone, Simpson Street's vice president of production and development, says of Washington: "She's incredibly talented and more focused than anyone I know. She's very conscious that she's an artist and a businesswoman at her core, and she sets boundaries, making sure she has time to spend with her family [and] to be creative."
Remaining close with people who keep it real is also a part of Washington's happiness. "The thing you lose in these positions," she says of fame, "people stop wanting to be 100." But she's been lucky enough to keep a tight-knit crew for years. One girlfriend she's "grateful to be able to walk through life with," she says, is fellow actress Tracee Ellis Ross. The two, who have been friends for over 20 years, "share very vulnerably and intimately when there's rough moments," says Ross. They also celebrate each other's evolution. "I've seen her feet get more firmly planted in her sense of herself as she has gotten older."
Washington's husband of nearly 10 years, actor and former NFL star Nnamdi Asomugha, is also one of her rocks. "I'm in my immediate truth with [him]," she says. "Those mirrors are important because they help me get back to myself." She promises to dig deeper into her identity in her first book, Thicker Than Water, due in September. "It's a lot about my search for security in my sense of self," she says. One thing she's determined to keep sacred, though, is the lives of her children. To date, she's never posted a picture of her and Asomugha's three kids (they have a 17-year-old daughter from his previous relationship, and share daughter Isabelle, 8, and son Caleb, 6) on her public social media. And she's careful not to divulge much about their lives, but makes it known she wants them to have thick skin. "Part of their journey is to know not everybody's going to hold your hand all the time," she says. "I try to show up as the person they need to help them be the best versions of themselves."
She's trying to show up as the person she needs, too. "Part of trusting myself is figuring out how to define what my personal success looks like for me so that I'm not just choosing everybody else's idea of what it has to look like," she says. "It's that trust of, if it's mine, it's meant to be. But I've got to stay ready to pivot and evolve and grow."
---
Photography: Breyona Holt | Fashion Director: Sara Holzman | Hair: Takisha Sturdivant-Drew at Forward Artists using TSD Hair Extensions | Makeup: Carola Gonzalez at Forward Artists | Nails: Kim Truong at Star Touch Agency using Dior Vernis | Production: Samantha Rockman
Celebrity news, beauty, fashion advice, and fascinating features, delivered straight to your inbox!
Jessica Herndon is an award-winning, Los Angeles-based writer who has contributed to Women's Health, Vanity Fair, Cosmopolitan, Elle, The Hollywood Reporter, Essence, the Associated Press, People, Spin, Flaunt, Nylon, and Seventeen.