The Instagram Guide to Antigua
Come for the ocean views, stay for the spa—and the rum punch.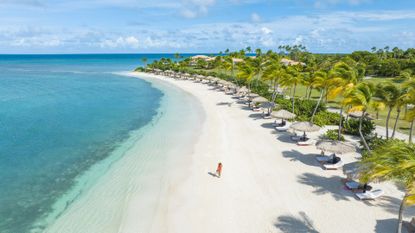 (Image credit: Courtesy of Jumby Bay Island)
Marie Claire Newsletter
Celebrity news, beauty, fashion advice, and fascinating features, delivered straight to your inbox!
Thank you for signing up to Marie Claire. You will receive a verification email shortly.
There was a problem. Please refresh the page and try again.
So, you're in the market for an island vacation—a trip that focuses on rest and relaxation. Beach time, drinks (preferably served to you in the crystal clear ocean), delicious food with a local flair, and views that look straight out of a postcard. There are obvious tourist-friendly islands to check out (read: Aruba, the Maldives, St. Barths), but perhaps one of the best gems in the eastern Caribbean is Antigua, a country located in the West Indies.
Known for its gorgeous beaches (there are a grand total of 365 to check out), perfect weather (it's known for little rain, low humidity, and sunny skies), rich coral reefs, and famed sailing culture, Antigua is an ideal destination for a honeymoon, girls trip, or solo Eat, Pray, Love-esque restorative getaway. You can stay on the main island in a number of gorgeous beach-side resorts, or check into Jumby Bay Island, an uber-luxurious private island with five-star service, unmatched views, and a spa that fuels escapism. For an idea on what to do, where to say, and what to eat, read ahead.
Stay at Jumby Bay Island
Situated just off the main island (it takes less than eight minutes to get to the mainland), Jumby Bay Island is the epitome of tropical luxury. The 300-acre, newly renovated property is the manifestation of private luxury. There's not a car in sight (instead, you get chauffeured around by private golf cart) and it truly feels like you're the only guest on the island. The resort's Ocean View Suites are so stunning you'll never want to leave—trust me, I spent a handful of blissful days there. A private foyer, personal bike, and quaint swing welcome you to the front door. Inside, you'll find a nautical-inspired interior complete with ample living space, one of the most comfortable beds I've ever slept in, an open air bathroom complete with a delightful outdoor tub and shower (don't worry, there's an indoor option too), and a backyard complete with lounge chairs and a private pool. The attention to detail? It's truly unbeatable. It's the little things: The bug spray left in the closet (you need it, FYI), the in-room ice machine, and the power adapters you inevitably forgot to bring.
The all-inclusive property is equipped with three pools (not counting the ultra-private ones en suite, three dining options, a yoga pavilion, tennis courts, and a white powder beach lined by umbrellas and lounge chairs.
Indulge in Some Spa Time
There's nothing quite like getting a full-body massage or facial with a white sand beach and clear blue ocean as your backdrop. If you find yourself at Jumby Bay (I highly, highly recommend), pop over their gorgeous open air spa and book one of the signature Tata Harper treatments. "The Tata Harper signature treatments were designed exclusively for Jumby Bay resort as they complement the resort's luxury, natural focus, wellness philosophy, serene environment, and dedication to personalized guest experiences. These treatments provide an additional layer of indulgence and self-care for guests seeking a truly immersive and rejuvenating stay at the resort," explains Tata Harper, the brand's founder. "Jumby Bay Resort emphasizes wellness and well-being as part of its overall guest experience. The Tata Harper signature treatments complement this focus by offering holistic rituals that promote relaxation, rejuvenation, and self-care. These treatments provide guests with an opportunity to unwind, destress, and enhance their overall sense of well-being during their stay at the resort."
I had the opportunity to immerse myself in the experience and can confirm that the staff takes their time getting to know you (and your skin), is impeccably trained, and provides treatments that truly put you in a trance. My personal favorite is the Soothe and Calm facial, which focuses on lymphatic drainage, breathing techniques, and products that restore balance to inflamed and irritated skin. It was here that I was introduced to the brand's Superkind line, which has since become a staple in my skincare routine (the Fortifying Moisturizer even earned a Marie Claire 2023 Skin Award!). Harper's personal favorite on the other hand is the Nature Balancing Facial. "With face mapping therapy and specific techniques for different skin concerns, the treatment can be tailored to everyone's individual needs and preferences. I also love that this facial incorporates a singing bowl ritual and calm-inducing breathing techniques to create an atmosphere of serenity and relaxation," she says. Regardless of which treatment you choose, you'll leave de-puffed, with a post-facial glow, and a feeling of relaxation that's only enhanced by your surroundings.
Take a Day Trip to Great Bird Island
Set aside a few hours of your day for a boat ride to Bird Island, which is the home of over 20 different species of birds. You can by all means spend a day in the sun bird-watching, but the island's largest marine park, which just so happens to be breathtakingly beautiful, has much more to offer. Dock your boat close to the shore and enjoy the white sand beach. Or, bring some snorkeling gear on board. The water is filled with exciting water life. You'll find sea turtles, sting-rays, and dozens of types of fish. The water is calm, the landscape is gorgeous, and you're pretty much guaranteed a good time. Should you be staying at Jumby Bay Island, the resort will organize a private boat for your day trip. However there is no shortage of external excursions you can book through various hotels or tourist agencies if you want to experience Bird Island.
Don't Sleep on Water Sports
With some of the clearest water in the Caribbean, it should be considered a crime to not take advantage of all the water sports the island has to offer. You can easily dedicate an entire day to sitting on sandy beaches and playing in the ocean. You'll definitely want to have a snorkeling experience (you're bound to see gorgeous coral reefs and schools of fish), and might even want to try something a bit more adventurous. Try your hand at jet skiing, go tubing, or test your balance by paddle boarding. If you really want to get a taste of the culture, sign up for a sailing lesson. Whether you're a complete novice or know the basic ground rules, it's a great way to get in on the sport Antigua is known for.
Eat—a Lot
If you don't leave the island full, you did something wrong. It has a stellar food scene. It's a melting pot of sorts, with cuisine influenced from across the world—Syria, Jamaica, West Africa, and Spain…to name a few. Jerk chicken is one of the most popular Antiguan delicacies, however you can find the spicy flavoring on fish as well. I nearly survived on the Jerk Fish Tacos served in Jumby Bay Island's main dining room. That being said, it's worth noting that the seafood in Antigua is stellar. I strongly recommend trying Conch (yes, the meat from inside a conch shell), Saltfish (it's a white fish), and lobster. Of course, you'll have to have some rum punch to go with every meal.
Book a Tour to Explore
If you're spending a decent amount of time on the island or just want to soak up the history, I highly recommend signing up for a tour or jetting over to the Museum of Antigua and Barbuda. The island has a history of slavery and sugar plantation life—you'll likely see out-of-commission sugar mills during your stay. (You can go tour Betty's Hope, a plantation-turned-open-museum for a greater understanding of life on the island under British rule.) Learning the island's storied background, taking note of historical artifacts, and tracing the area's independence is key to understanding its rich culture today.
Celebrity news, beauty, fashion advice, and fascinating features, delivered straight to your inbox!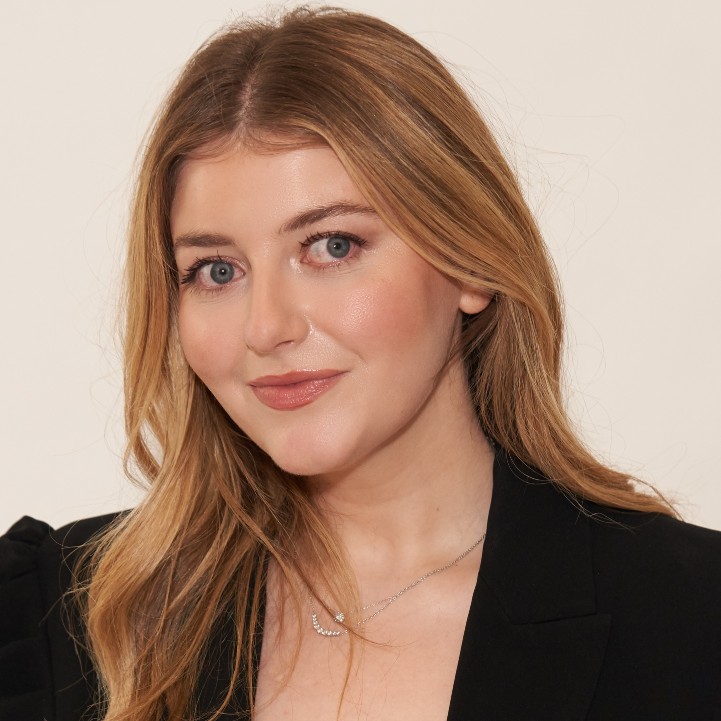 Samantha Holender is the Beauty Editor at Marie Claire, where she reports on the best new launches, dives into the science behind skincare, and keeps up with the latest trends in the beauty space. She has previously written for Us Weekly, Popsugar, Makeup.com, Skincare.com, and Philadelphia Wedding. Follow her on Instagram @samholender.